Welcome to Poised for Success!
Providing Online Instruction
in Canine Musical Freestyle
since 2012!
Now offering classes in
Canine Parkour
Scroll Down for all current
information!
Our Philosophy
I firmly believe that the ultimate goal of participation in dog sports, whether for serious competition or just for fun, should be to increase the overall quality of a dog's life and to build a mutual partnership of joy and trust between dog and handler.  Therefore, in all classes offered through Poised for Success, I strive to combine good quality skill building with patience and a sense of humor.  My hope is that every class will help you and your dog come to know and trust one another more deeply, and increase your enjoyment of working together through performance to music.
What's New?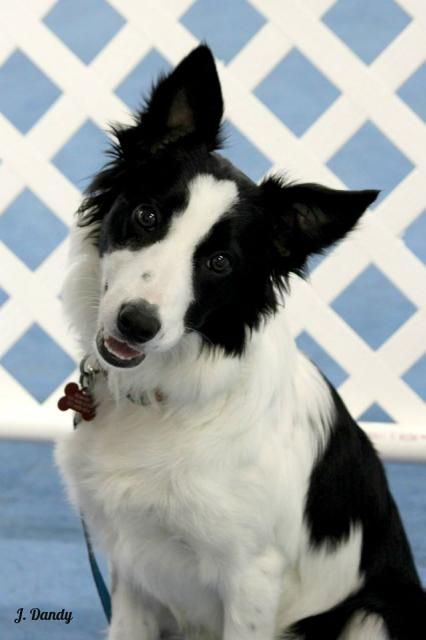 Coming Soon

See below for details
Tessa posing on the "platform" we used for the "Trick on a Platform" exercise
 Looking for a Parkour Class?
I am excited to announce that I will be teaching Introduction to Parkour through the Clean Run Learning Center!


Class Description:

Would you like to learn a fun way to increase your dog's confidence, focus, and fitness while strengthening your relationship at the same time?
Canine parkour, which is loosely considered to be a form of dog agility, is a somewhat new dog sport. In parkour, you teach your dog to perform "interactions" with objects in the environment such as jumping over, going under, going between, walking across, going around, backing between or onto, or sending around. 
Canine parkour builds confidence and fosters teamwork by giving you and your dog an opportunity to explore and meet new challenges together as you perform the interactions with different objects in different locations. It also builds physical strength and flexibility while improving overall physical conditioning. And, parkour complements agility as Kristine discusses in this article reprinted from Clean Run magazine.
Best of all, canine parkour is an appropriate activity for dog and handler teams of all ages. Young dogs in training, fit dogs in their prime, older dogs with limited mobility, and dogs of every age and circumstance can enjoy their own unique adventure.
In this 6-week online course, Kristine Hammar will provide an in-depth introduction to canine parkour, and teach the skills that you and your dog need to get started. She will also teach you how to create submissions for parkour titles. By the end of the class, students who wish to create entries for parkour titles will have at least one entry ready to submit to the titling organization of their choice
.
All information on tuition and registration can be found at the Clean Run Learning Center, linked here:

Through the Clean Run Learning Center!
Class starts on September 16!  Sign up soon!
Classes Through Poised for Success
Creating Artistic Movement
and Heelwork
Description Coming Soon!
  Registration for Classes

through Poised for Success
General Information
Class Dates: 

Tuition: 

Format:  Classes are offered through a Facebook Group format
            Full explanation of the Facebook Group format will be
            provided for anyone who has not used Groups for a class
            before.  The format is actually quite user friendly.
Payment of Tuition
For your convenience, tuition can be paid via PayPal to:


ksammie3@gmail.com
Or, you can email (ksammie3@gmail.com) for a PayPal invoice
Check drawn upon a US bank can be accepted via mail.  Please indicate, specifically, that you are paying by check.

Sorry, no credit card payments, except through PayPal
Registration
To register, please copy and paste the following into an email and send to:
ksammie3@gmail.com
Printable forms and mailing address for check payments available via email
Handler Name:
Name of Dog(s):
Breed of Dog(s):
Handler Address:
Handler Email:
Registration for:
Contact Us

Questions?  Feedback?  Contact us at:

PFSFreestyle@gmail.com